This year was my first of having Cosmos, previously I had never really been interested in trying it, mainly because it's an annual and I'm a perennial person. However, in my desperation to fill space in my garden quickly and easily I picked some seeds up and had a go…

They seemed to take a long time to get going, not helped by me taking too long to get them in the ground… Next year I'll endeavour to plant them early on rather than wait for them to grow larger in their pots…

Soon enough they grew into huge 'trees'! But made me wait weeks before they finally opened, teasing me with their many, many flower buds…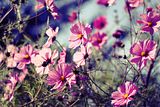 I don't think I'll be without them for a long time. Anyone wishing to fill a space quickly before waiting for a perennial to mature this is your plant.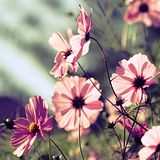 Mine grew so huge this year, they literally are trees! They offer a great screen to stop people looking straight up my garden from the road – I had bought an elder to do this, of which hasn't grown AT ALL since I bought it very early on in the year. So this Cosmos as been a blessing in disguise and has done the job of an elder… Can you believe it?! I do hope the Elder does something next year, they're supposed to put in feet of growth in one season… Hmmmm, not too sure about that one!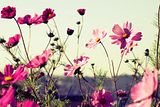 They are adding a much needed splash of colour at this time of year, and should flower until frosts kill it off so I hope for another few weeks yet.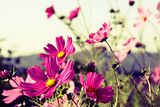 A wonderful summery, magical flower that you can sit and watch swaying in the breeze... Plus, the insects love it too!