As already mentioned in the 'About Me' section, I live in Sheffield, fairly central and just less than 2 miles from the city centre.

Now, when I talk about 'my garden' I actually mean the back garden as this is where most of the work is done, and it's the larger of the two.

The garden is what I would say is medium… But it seems to depend on where you go, so I'll say it's small.
In my eyes it is a good size for an [ English] suburban garden and is marginally larger than the garden I grew up with - enough space for swings, climbing frames and such but in the grand scheme of things it is tiny compared to some.

I try to plant for wildlife where ever I can, therefore the majority of plants are attractive to wildlife in some way. A garden without the animals is dead to me, during the winter I miss the buzz of bees terribly!

Gardening for wildlife also means I do not use chemicals, and the only fertiliser I use is my own 'grown' compost. Unfortunately I do not have the space to be completely self-sufficient in making my own compost so I do have to buy some in, which is always peat-free. (Nor do I have enough plants/grass to produce the compost)

One of the first jobs in the garden was:



Oh yes, and I am attempting to become a kitchen gardener... Sadly, it just isn't ingrained into me. So I make a half-attempt at being one and am going to stick to easy fruit/veg such as carrots and cut again leafy veg.
We have a number of berry plants too but over summer 2009 I discovered I must have intolerance to one, or all of them... Puts a bit of a downer on the whole experience!


*my*


A maturing border - a work in progress, it will eventually extend up the slope to get stop the need to mow grass downhill - a back breaker!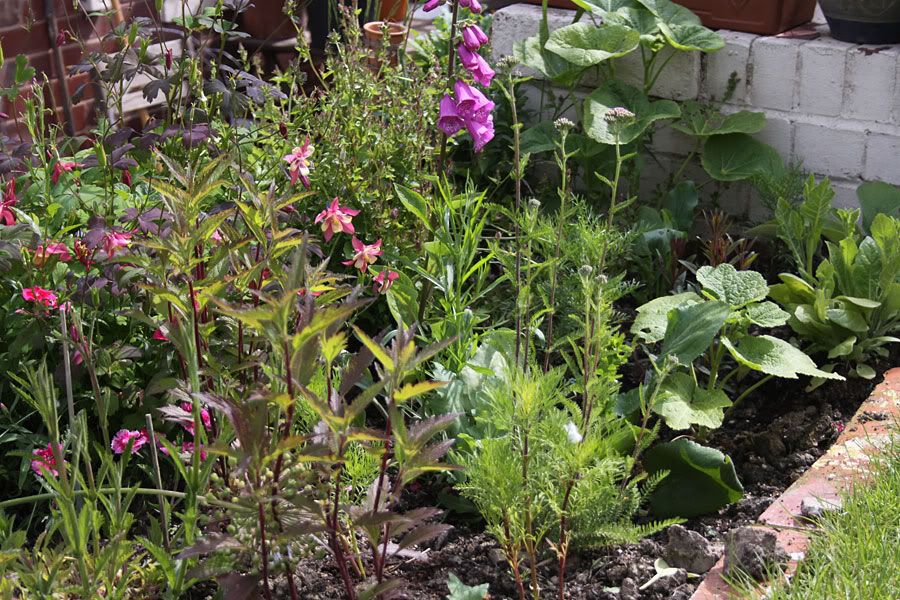 Maturing border - this area changed massively in 2010! It is the site of a new border. The grass in this area is poor as I suspected it has been grown/laid on rubble. It always looked dead!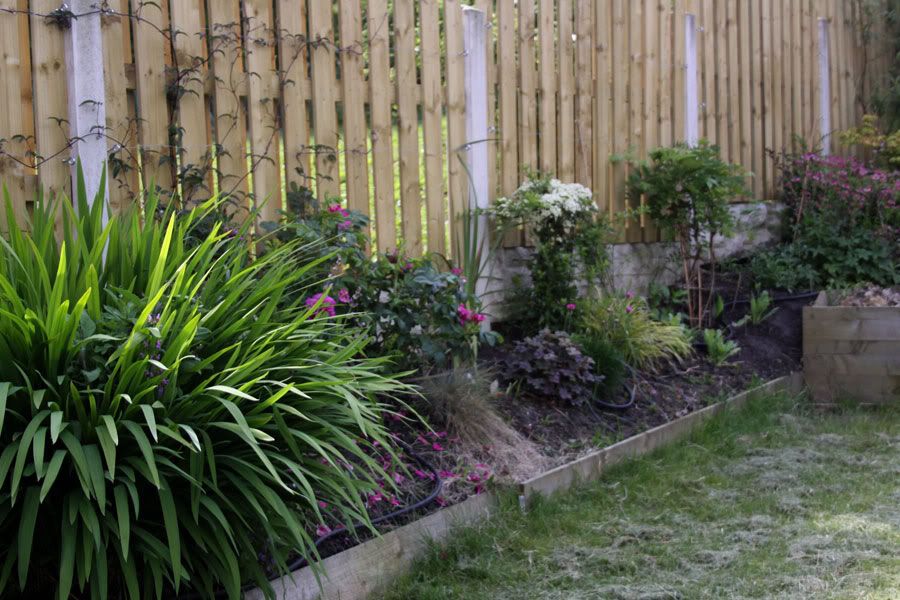 The first 2 years being in the house was spent filling the gaps in the garden, now most spaces are filled, I am beginning to plan how I want to shape the garden, I would love to take people on a journey through it, but the steps into the garden make it impossible... Without a major landscaping job I cannot see how I can achieve what I want...

Very frustrating.

Our third summer in the house was 2010 and by far the biggest change was creating a 'new' border in a corner where the lawn always remained boggy and never grew very well.

Once we began digging the reason became very apparent…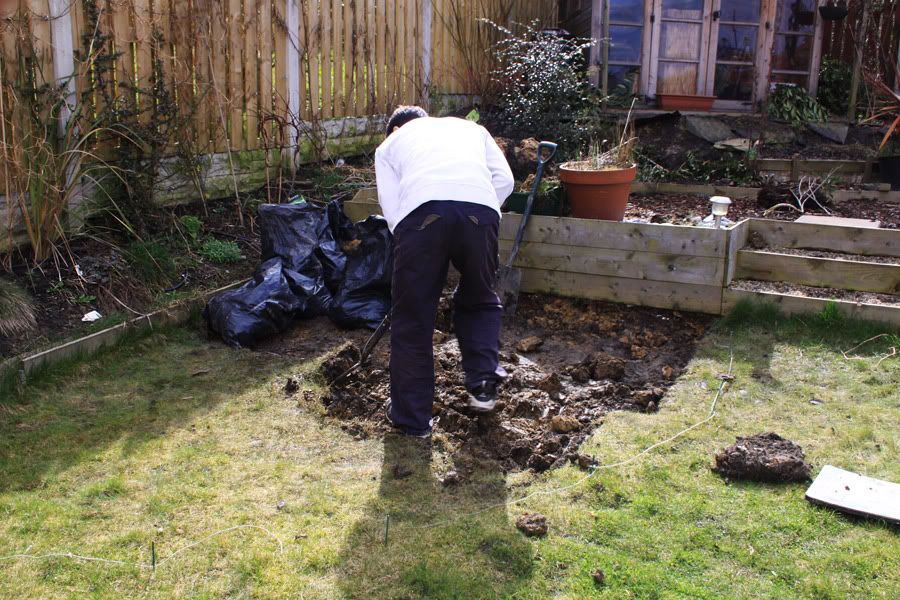 Oh yes, that's solid yellow clay.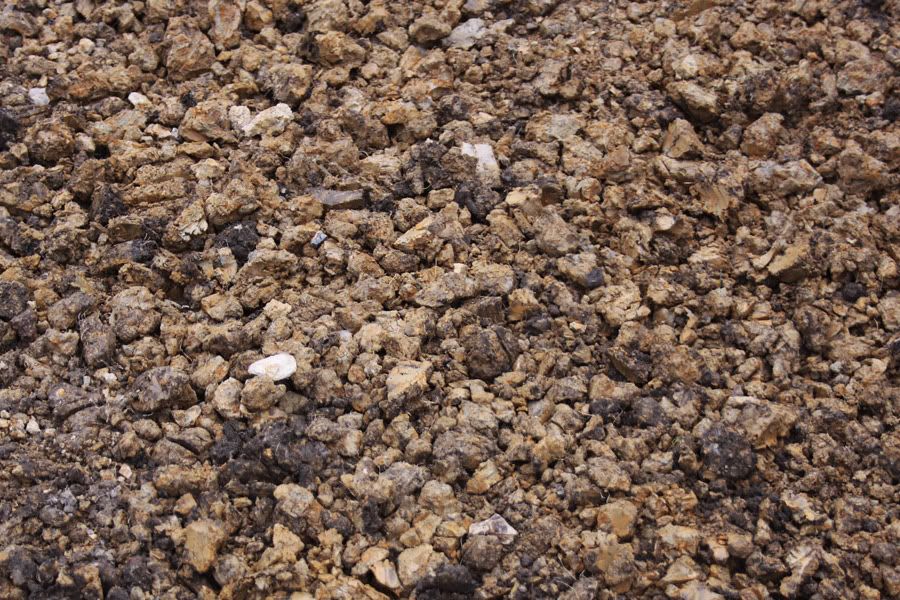 We even considered charging people entry to see our very own 'Stonehenge'!


The plants were finally planted on April 17th.


11th July and it's difficult to believe you're looking at the same border…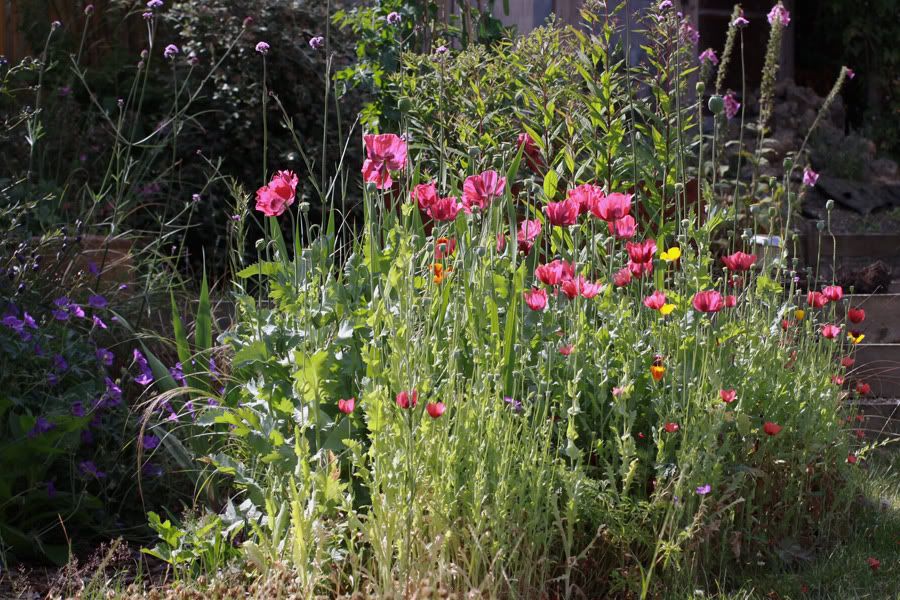 30th October and it's very different yet again.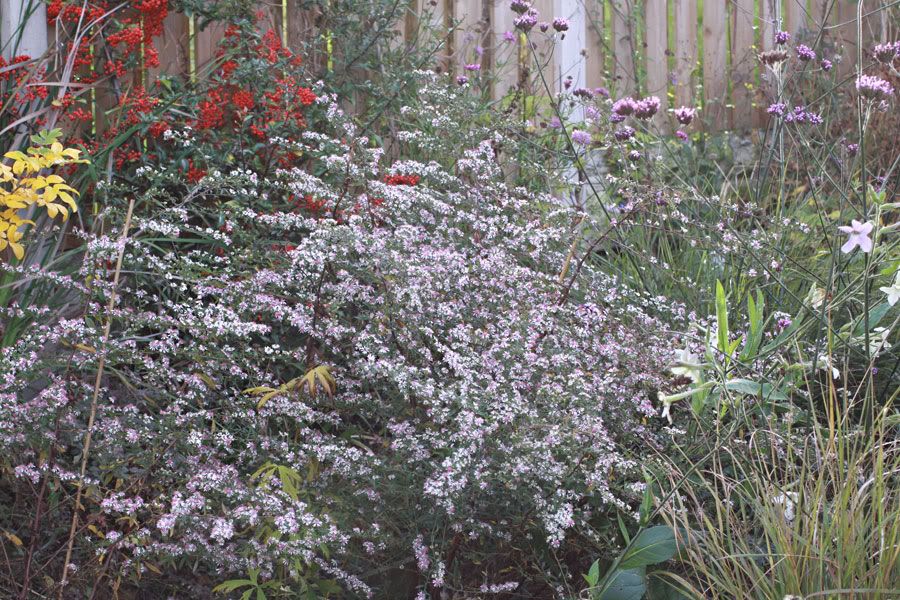 The aim of the border was to provide as much year-round interest as possible, I think it is lacking in Spring interest at the moment as the dead Aster and grass provide winter interest but come spring there are no bulbs or early flowering plants yet.

2011

During the latter part of 2010 I began working on the Cherry Tree border; this are has always been dark and lifeless. I've gradually removed shrubs that were making the area progessively darker as they grew and we also removed the Summerhouse which not only was using a lot of space but also cast a lot of shadow onto the back of the garden.

I planted lots of spring bulbs in the Cherry border - mostly Anemone, but also some Snowdrops, Tulipa Turkestanica, Bluebell and Daffodils. Added to this we also had a number of perennials such as Geraniums, Dicentra, Primula Vulgaris, Goat's beard, Ajuga, Pulmonaria, Ferns, Foamflower and Digitalis.


As I mentioned before: The summerhouse was removed. This left us with a large area free and is inteded to have some chairs and a small table with a small amount of planting... However, the main issue is screening the fence from people walking up an alley next to my neighbour's garden. I like my privacy and when I'm in the garden I like to be in my own little world and know I'm totally secluded from other people.
As a result I have planted tall plants, as well as climbers along the fence and coppiced a couple of willow trees.
The Willows have put on a good amount of growth, and I've stuck to tall Perennials to add height.

Veronicastrum Viginicum 'Fascination' and Elder 'Black Lace' in the background will eventually be joined by Flat-topped Aster and Digitalis.