The flutters are still with us… Albeit in much lower numbers… I haven't seen a Gatekeeper for a few days now so am afraid they've left us… I have seen a Red Admiral hanging around the Buddlejas though, taking advantage of the very last blooms. I just hope now, that the Asters in my and next door's garden begin blooming soon; they often attract Commas, Red Admirals and Small Tortoiseshells.

Today I saw a Small Tortoiseshell, it's looking very tatty indeed and I fear it's not long for this world.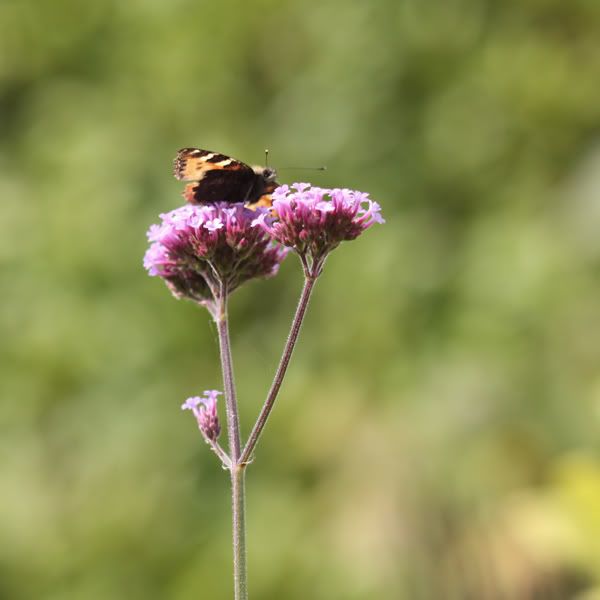 Sedum is slowly getting its colour…


And an update on the caterpillar

Sadly I didn't get to see it turning; last time I checked it was exactly the same as before, just hanging in situ and then today it's finally in its chrysalis. I can't see any more in the nettles, but I don't want to disturb them too much in case I damage one, but I'm hopeful there are another couple at least.
I've handed in my dissertation now; and was all set for some celebrating and a bit of a break relaxing for the next week or so… But then I began to panic about getting a job so I've started writing my CV and cover letters. I didn't even manage 24 hours just relaxing! Haha. Typical of me.
I don't actually know what to do with myself any more… All this spare time… I was sat very bored yesterday trying to work out what to do, eventually I remembered I have a pile of books that I had to put off reading. I also find myself regularly walking into the kitchen to sit at the table to do my work… Then realise I don't need to be in there anymore! Disoriented, oh yes.
Copyright 2011
Liz
.
All rights reserved. Content created by Liz for
Gwirrel's Garden
.