It's been a wonderful day here, and I've just been sat out until almost 9pm. I only came in because I needed a drink and was getting a little bored – really ought to have taken my book outside with me!

I'm thoroughly relaxed, and confused trying to decide which jobs need doing and where I can put those last seedlings I have left in pots!

We've just had a Foxy in broad daylight, and it was most definitely a youngster! Yay, just a shame I never got to see them actually as cubs, how on earth did they manage to hide them so well?!! No photos, but I know had I managed it they would've been quite good enough as there was enough daylight. Never mind, I'd much rather experience the moment then run around the house trying to get the camera!

This Goldfinch has a tag on its leg, I wonder if it's the same one as in the photo I caught a couple of months ago.


Great tit at last!


Sadly I didn't manage to get one of the babies.


Looking some what rough, I'm not surprised raising all those babies!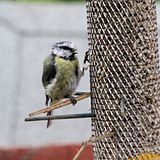 Baby Blue Tit,


Looking rather mean for one so cute!


This guy was pretty much fresh out of the nest I think. It wasn't flying very well and could barely make it into the Cherry Tree to escape me. I didn't get too close as I didn't want to make it fly into a predator's path.