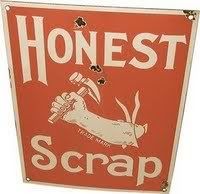 As with most awards there's always a catch…
A. You must brag about the award.
B. You must link back to the person who gave the award to you
C. You must share 10 honest things about yourself
D. You must give the award to 7 more bloggers who inspire you
And as promised I will participate, however it is unlikely I shall nominate anyone else, but please, if anyone wishes to have a go themselves then please do!
A. Bragging about anything is not my forte, however the fact I'm advertising it on my blog surely counts as bragging about something??
B. As I already said, Julie over at
My English Country Garden
nominated me for this award, please go check out her own Honesty Scrap entry...
C. Ok, ten honest things about me… Mmmmm I may struggle to find anything interesting…
1. I buy far too many plants, I spend far too much on the garden and know it… Yet each year I just can't resist the temptation.
2. I am one of those strange ambidextrous people… It always comes in handy when decorating and such because I can use both hands, and when I was at uni I used to find it helpful to use my left hand and exercise the other side of my brain to come up with more ideas :) was this cheating??
It runs in my family, my mum and brother are also ambi's…
We're special! :)
3. I am probably not as old as you may assume.
4. But I am not at all happy about getting yet another year closer to 30.
5. I own Gerbils, I used to have lots of them but currently only have three sisters and two Jirds – a larger relative of a Gerbil, around the size of a rat.

6. I'm an old romantic at heart, I think many women are to be honest. Only I'm perhaps a little too sensitive… Hmmm. I easily cry at things, someone's voice only has to quiver or their eyes prick with tears and I'm off.
Although I don't generally cry due to my own emotions, it's usually something/one setting me off. Just don't try to ask me about something close to my heart, because I'm likely to break down…
I had an interesting conversation with my team leader at work… ha ha, I ended up blubbing… Not at all embarrassing…

7. I have a strange surname, and almost everyone I meet loves to tell me so. As a child I always dreamed of marrying someone with a 'normal' name like Smith or Walker so I could rid myself of it…
And then I ended up with Pete… Who is Portuguese! Argh, I can't win! People always tell me to keep the surname because it's interesting, that may be so, however I'm not interested in whether it 'stands out'!
Considering it's so unusual, it can actually be found in the doomsday book of 1066 (how amazing would it be if I could actually trace my family back that far??!)
It's also always fun trying to fit my name on a line, at 18 letters, it's not always easy, and that's not even taking into account that I have THREE middle names, oh yes, that's 3! Is there any wonder I drop the middles?? Liz is far easier to manage.
Just to tease those who have yet not fallen asleep, my initials are; EJEBA.

8. For my first few months of life I was actually called Daisy. Luckily my dad saw sense and decided it was too 'flowery'.
You think??! (at least my parents did something right!)

9. I love my macro lens. I admit, I'm an addict. Is that wrong? Some people love smoking, caffeine, computers, and then there's me with my trusty macro lens.

10. I have been best friends with my best friend for 23 years. That's amazing considering we became friends when we were around 4.
We pretty much grew up together, many many evenings were spent as teenagers in his bedroom and vice versa. We're both scorpios and born only 19 days apart... I consider his mum to be my second mum, bless her. I hear it's a Scorpio trait to be fiercely loyal to their friends, and I think that it most certainly true in this case.

D. As I said above, I will not be nominating anyone for this as there are far too many people to choose from, but please feel free to play with it yourself and please let me know if you do!

And just because it's impossible for me not to post a photo...

Here's a photo taken of me yesterday :D