Wow, where has the year gone?

I cannot believe it's September already, I'm not usually a fan of Summer, but I'm really going to miss it this year as I have really enjoyed myself. I know for many this year has been terrible, but here it's been fantastic – well, compared to the past two years anyway… And perhaps for the first time in years I'm not yet looking forward to the next few months, normally I love Autumn with bonfire night, my birthday and then into Christmas… It's just not happening for me this year…

Today is the first of September, and it's been mixed weather-wise… It started off lovely and warm with a fairly strong wind. So I had a little relax and eventually forced myself to use the plants I bought on Saturday otherwise they will sit there for the next month or so before I finally get them in…
So, shockingly everything is planted already! Oh, I do feel like a good girl today!!
I think I'm going to need more viola/cyclamen though… Hmmm any excuse isn't it?

The black lily turf is planted, the green plant is a Rhodohypoxis… Whatever that might be! I plan on adding chive too to repeat the grass textures and to also hopefully deter cats.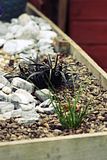 Cyclamen and Coreopsis, I'm thinking perhaps I shouldn't have mixed the yellow and blue together…The jury is out.


(ignore the tea bag, it's soaked in jeyes fluid to deter foxy/cats...)

Violas in their basket…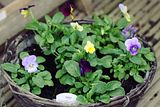 Then around 5pm I brought in the washing and new chair… Wandered to the veggie bed to collect some beans and heard a thunder clap… I continued cutting them, tempting fate.
Just as the second sounded I thought perhaps I was pushing my luck and wandered back in with the first rain drops close on my heels.
Just as I stepped inside the heavens opened and I could hear stones being thrown…

It was hailing!

So glad I brought the washing and chair in when I had the chance :)

Some photos from our front window…


Gradually getting nearer…


Where'd everything go?!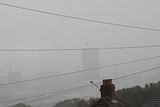 I've been lazy this weekend with the housework, as a result I have now realised I still have the ironing to do… It might be a hash job this week as I only have a three days at work so shouldn't need as many things ironed (we always have Monday and Tuesday off on bank holidays…)